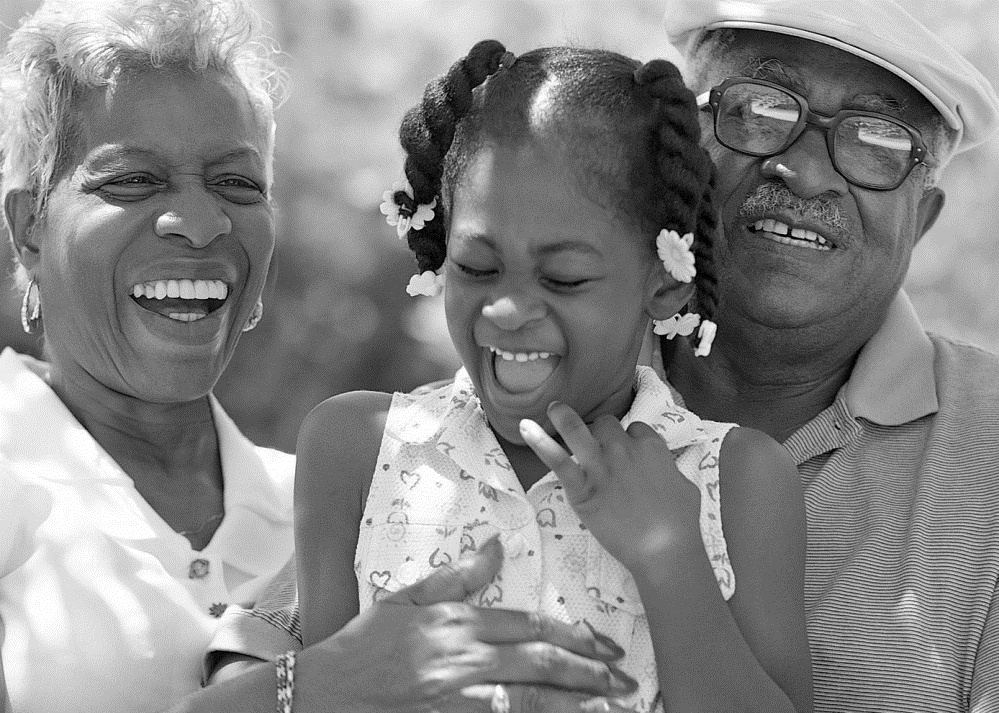 Grand- indeed!
Help- I need!
A nuzzle to keep me squeaky clean
A muscle to bear my childish lean
God- they trust!
Joyful- their outburst!
A cheering crowd to my baby steps
A whip to correct my missteps
Beautiful- she is!
Handsome- he is!
A breath of infectious fresh air.
Fresh princess and prince of bell-air.
Parents- they are.
Landlords- they are.
A vault so full, it overflows.
A cloud of galaxy that forever glows.
Hybrid.
==============================
Humorous -yes!
Sarcastic-their address!
Seasonsed romantics fending for love
Wrinkles of kindness sent from above
Willful-perhaps!
Giving-their traps!
A pond to drown in but never to die
A vegetation with favours from the sky
Tolerant-yes!
Cheerful-oh yes!
Fireworks that light to claim the whole city
Feet too proud to thread where they weary
Grateful -of course!
A meal- a three course!
Towels that dry the heat coming after.
A depot of joy, forgotten misery and laughter.
Leon
========================================
Wise- they are!
Amusing- they are!
A grape plucked and fed of wisdom
A clan becoming a growing chiefdom
Sweet- indeed!
Smiles- their lead!
Lover that craves and saves for kids
A mouth with a million barn of feeds
Greys- yes!
Life- less.
A Nile warming the water of love
A heart loving as pure as a dove
Beard- less
Feeble- i guess
A pocket of life helping to cope
A breather savoring and saving hope.
Vera
===================================
Wisdom- they are!
Grey hairs-their par!
Oven of caution when children err
Thrones that select a suitable heir
Healthy-their cure!
Appetite- for sure!
Bones for the grave,teeth that bite
Tears that warm the verse they recite
Humorous- yes!
Sarcastic – yes!
Aged babies seeking to comfort
A page of sorrow torn off a sort
Pleasant – to me.
Informative – Can be
Words of power that pour like rain
Stories of old rewritten again.
Rachel Charles
================================
Depressed – no!
Weary – though!
Here, sadness never sits with joy
Only happiness gave them a toy.
Tired – yes!
Eager – their address!
Their ages hung on to horns.
With words wrapped in thorns.
Caring – for us!
Funny – to us!
Ribs swore they're eager to shield
Toothless head ran round their sate field.
Old – they are!
Dim – like a star!
Once young called back by age
Two suns brighter from afar.
Bamvi
=====================================
Age-full!
Play-full!
Clouds between childhood and wisdom
Whips chasing sparks of boredom
Wrong-seldom!
Strict- seldom!
Voices of decorum
The fire that burns Santorum
Love-certainly
Bias- uncertainly
Rivers of ancient affection
The givers of apt attention
Story-tellers!
Idea-sellers!
Minstrels of ancient cruse
The bowls that draw muse
Omolola Onigbinde
================================
Storyteller – Yes!
Historian – Yes!
A tongue that danced out tales
A mouth full of events exceeding scales
Amiable – She is!
Truculent – He is!
Words that fix pothole
Blows that take control
Prudent – They are!
Homeowners – They are!
Eyes which through the future looks bright
Sky with make-up of star light
Rosy – Their touch
Strong – their crutch
Quarrel that triggers the real you
Cane whose voice the brain chew.
= Bangwan.